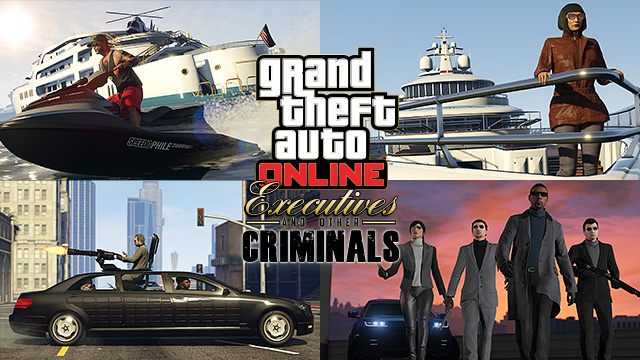 Earlier today Rockstar released the latest free DLC for GTA Online - Executives and Other Criminal. If you're rich, you're in for a treat as a ton of cool stuff has been added to the game for you to blow your load of money on, including a super yacht. Watch the trailer below to see what you'll be able to get up to now.
Quote

Executives and Other Criminals brings new ways to make crime pay in GTA Online for PlayStation 4, Xbox One and PC - offering players the chance to run their own criminal organizations, hire and fire other players, and face off against rival operations across Freemode. Los Santos living also gets a premium upgrade with the introduction of Stilt Houses for sale in the Vinewood Hills, new Eclipse Penthouse Apartments with customizable interior styles and the debut of the upgradable and fully staffed Super Yachts now for sale on Docktease. The update also comes with new armored vehicles, two new weapons and much more.
Rather than copy and paste the article here, you can head over to the Newswire for full details on what's included in this latest update.