Grab the stick of the fast and nimble Western Besra training jet and push it to the edge of the envelope. Master absolute air superiority in 10 new solo missions that will make you comfortable in any pilot's danger zone, including combat maneuvering, low-flying challenges, formation flying and more.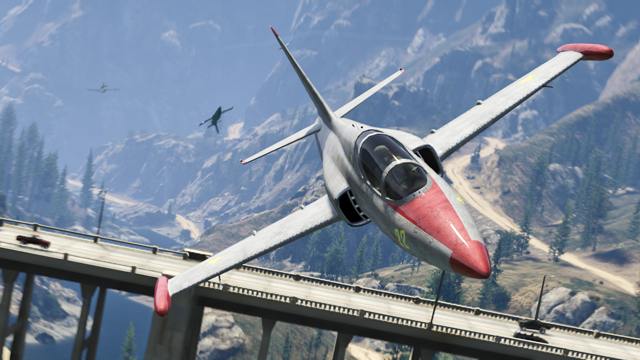 Once it's 'mission accomplished' and you're out of your heroic new
Flight Suit
, spend your shore leave buzzing the skies in the luxury
Swift
helo, or cram your entire squad into the new 16-seater
Buckingham Mil-Jet
for team transport in style. Hit the silk with a collection of new
Chutes
and
Parachute Bags
, and if things get a little out of control, rely on the
Reserve Parachute
to give you a second chance at that soft landing – or use it to get creative with your precision dives. Later, hit the streets in the shapely
Invetero Coquette Classic
, available in either hard-top or topless roadster variants for whatever your sea-level speed fix.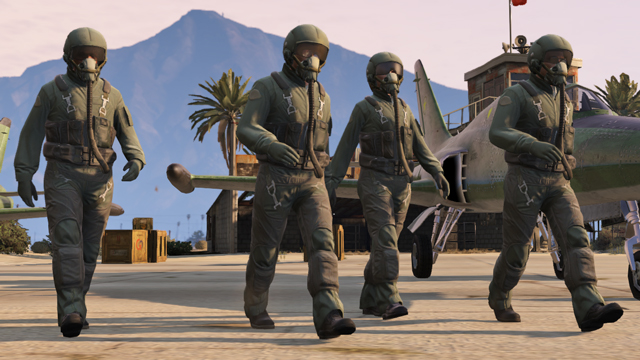 And round up your wingmen for new Races, Captures, Parachute Jumps and more, including the three all-new VS Mission modes.
Acquire Targets
is a kill-the-carrier style mode where opponents fight in P996 Lazers to control one flag; maintain control for as long as you can to rack up points. In
G-Rating
, compete against other cadets as you fly to pick up 15 flags in both weapons hot and cold environments. Or try out
Air Force Zero
, where the defending team must protect an aircraft against an attacking team as it flies to the safe LZ.