Day 1: The Beginning
Rockstar would fly the UK webmasters (myself, Psy, Jevon and Adamcs) out on Sunday, 20th April, giving us an extra day to get over jet lag and such, as well as giving us the opportunity to do some of the more touristy things in New York City.
My flight from Birmingham departed at 9AM GMT, and with it being a trans-continental flight, we were advised to arrive there 3 hours beforehand, 6AM. This meant an early start which I wasn't too fond of, but when you're being flown to the United States free of charge you can't really complain! Jevon would also be on the same flight as me, and upon arriving at the airport we met, at least I had someone with common interests to talk to while waiting around.
Flights from the UK to the US are usually 6-8 hours, ours was due to be 7 hours 50 minutes. Lovely. Luckily, everything was running smoothly and we departed on time. To pass the time on the flight, we watched Alvin and the Chipmunks, not a great film but better than nothing. The rest of the time was spent listening to music and flicking through the uninteresting magazines kept in the pocket of the seat in front of you. Exciting stuff!
We arrived at Newark airport on time, and after collecting our luggage, Jevon and I made our way out of the airport. We joked about how it would be stupid if we had been given separate cars to drive us to the hotel, seeing as we just sat next to each other on the flight - but since Rockstar booked everyone's tickets at different times, it was possible this could happen - and it did!? The two drivers were slightly confused, but happy since they were making more money!
To the hotel
This is where my first interesting story begins. My Hispanic driver's accent was a little difficult to interpret, and although I think I understood what he was saying I found it hard to believe some of the questions that he came out with. For example, our first conversation went a little bit like this:

"So, you're from London, right?"
"No, I've just flown from Birmingham"
"That's in London, right?"
"No, it's in England, but a bit more north"

The driver clearly thought London was a country. He asked if I was from London one more time, I gave in and just said "yeah" before things got any more awkward. A couple of minutes passed before another interesting conversation started.

"You know Prince Harry, William ... The Queen?"

... I honestly could not believe what he just said, I wondered whether or not he was joking, and if he meant personally. Who knows? I smiled and just said yes, hoping the conversation would end fairly abruptly - but no, he seemed happy that I was best friends with the royal family, and asked about two more famous people. How on earth he connected the royal family to the following two people is beyond me, but he then asked: "You also know Michael Schumacher? And uhh... Mika Hakkinen?" - luckily, being a big Formula 1 fan I knew exactly who these two men were, but they aren't even British! I nodded and thankfully the conversation ended. Later in the journey he would show me pictures he took of the Pope on his cellphone - I wasn't at all interested but told him it was cool. The journey was made more pleasant by the fact that I was seeing GTA IV adverts literally everywhere, and I'm slightly annoyed I didn't think to get a few pictures of the ads I saw, either way, they made the city look pretty nice.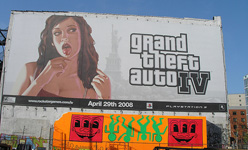 Meeting Rockstars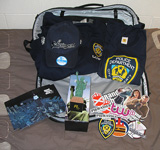 I finally arrived at the Hotel on Rivington, an excellent hotel with very nice rooms and Tempur-pedic beds which are so comfy. I checked in before meeting Alison Brash and Nathan Stewart from Rockstar Games (Jevon and Adam were also here at the same time). These two people were the main ones organising the trip, and would be our main points of contact for the duration of it. We got a nice stash of goodies from Rockstar in a R* branded bag, including an LCPD t-shirt and sweatshirt, a Statue of Happiness model and of course some stickers. After a quick talk about what we were going to be doing, we dumped our bags and got ready to head out to get some lunch. We went across the street from our hotel to inoteca, an Italian restraunt where even the menu is in Italian - not being familiar with all this we didn't understand what anything was, even after a waitress kindly explained everything, albeit very quickly. We ended up getting a grilled sandwich type thing, which was actually pretty good.
After eating, we walked back to the hotel and sat at the bar, chatted about GTA, Rockstar and other stuff. After a while we went back up to our rooms and rested before we were called down in the evening to go out for a meal. Psy had arrived from his lengthy flight, and we were joined by Nathan again and a couple more Rockstar employees, and Chess Hubbard, a DJ, journalist and passionate WoW player. Over our meal we covered interesting topics such as catching paedophiles, World of Warcraft, and other videogames not actually related to GTA - the sort of thing you'd expect us hardcore GTA fans to be talking about, right? After the meal we headed back to our rooms to rest until the morning.
Some of our affiliates (view all):