San Andreas Clothing
Clothing in San Andreas is a vital point and is one of the great features in San Andreas! There are several stores, each resembling its own style and culture. Below we outline the stores that can be found throughout the entire state of San Andreas. Some only opens when you are further within the storyline of the game.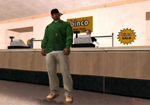 Binco
Located at:
Ganton, LS|Juniper Hill, SF|Airport, LV|The Strip, LV

Binco isn't one of the best clothing stores around. This will be the first shop where you will be introduced into the "clothing" feature. Binco stocks cheaper clothes, rather bargains and a wide variety from jeans, khakis, hats and t-shirts.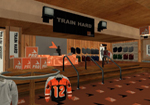 ProLaps
Located at:
Rodeo, LS | Creek, LV

Prolaps is the more "expensive" clothing shop and stocks very neat and expensive watches and jewelry. However they are the more "sporty" store and stock several training outfits, from sneakers, hats, shorts and boxing outfits for the gym.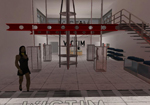 Victim
Located at:
Rodeo, LS| Creek, LV | Financial, SF |

The first thing you see when you enter a Victim store is basically nothing! Looks like all the clothes are in the stores closet. Anyway they stock really "young and funky" type clothes. By the looks of it they also stock some rapper clothes. They also have some nice watches, shades and hats. You will also find Biker and Cowboy boots inside the store.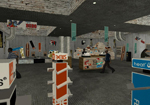 SubUrban
Located at:
Jefferson, LS | Hashburry, SF | Creek, LV

SubUrban is one of the best stores and you gain the most respect with your fellow gang members and pedestrians if you wear this store's clothes. The interior has some trademark "copies" off QuickSilver and I saw a surf board inside there. They stock several R* clothes and some other real expensive T's and jeans. Great chains and watches can also be found here.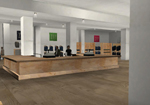 Zip
Located at:
Downtown, LS| Financial, SF | East Venturas | The Strip, LV

Zip features really comfortable shorts, khakis, t's and a range of boots. They have really plain color shirts and nothing to get excited about. However, they have cool looking shades, hats and watches.